Brotha Lynch Hung "Mannibalector" Album In Stores Now!


Brotha Lynch Hung is back to complete his dark trilogy with the release of Mannibalector, in stores now!

The master of horrorcore returns with some of his most compelling work ever. With tracks like "Stabbed", "Sweeney Todd" and "Eating You", along with features such as Tech N9ne, Hopsin, Yelawolf and Bernz & Wrekonize of ¡Mayday!, Mannibalector is sure to be an instant rip-gut classic!

Don't miss your chance – click here to purchase now!
Brotha Lynch Hung "Stabbed" Featuring Tech N9ne And Hopsin [Audio]
Brotha Lynch Hung "Krocadil" Official Music Video From 'Mannibalector'
Brotha Lynch Hung "Meat Cleaver" Official Music Video
I Love Strange Music 50% Off Sale!


It's true: ladies love Strange Music!

Make your lady happy by getting her the dopest Strange Music gear for women (women's clothing, as well as all necklaces, pendants, dogtags, neck ties and air fresheners) and make your wallet happy by getting all that gear at 50% off. Strange Music is making your Valentine's Day easier with the I Love Strange Music Sale – 50% off of your favorite Strange Music women's gear*!

So show your lady how much you love her by getting her all the Strange Music merch she loves! Sale starts on 1/25 at 12:01AM EST and runs till 2/17 at 11:59PM PST. Head on over to strangemusicinc.net and fill your cart with the stuff that will fill her heart!

*Does not apply to previous orders, men's wear, CD's, DVD's, posters, gift cards, VIP packages, CD presales and other select items. Sizes and quantities are limited.

Tech N9ne's Independent Powerhouse Tour 2013 VIP Packages Now Available!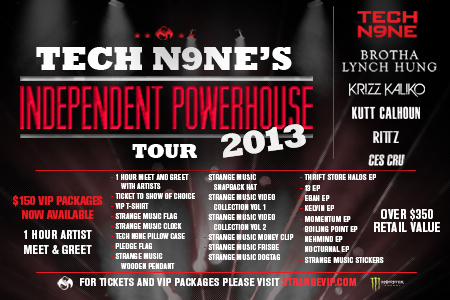 TECHNICIANS!!! We're pleased to announce Tech N9ne's Independent Powerhouse Tour 2013.
Don't miss your chance to experience the Independent Powerhouse Tour like a VIP! For $150 plus shipping you can roll like a VIP – you'll get complimentary admission with front of line access to the show of your choice, a one-hour Meet & Greet with the artists, a limited edition VIP shirt (XL only), along with other kick-ass merchandise worth over $350! Don't miss your chance to experience the hottest tour – VIP style!
Click here to order your Tech N9ne's Independence Powerhouse Tour 2013 VIP Package now!
Brotha Lynch Hung - "Blood All Over Me" (Audio)
Brotha Lynch Hung "Mannibalector" Music Video